2009 ICHNITES ROUTE SEASON STARTS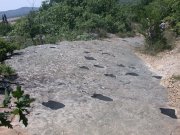 [2009-04-03]
The Paleontologic Museum of the Ichnites Route will be opened from the 9th to the 12th of April for those who are interested in discovering the amazing world of dinosaurs.
It will be opened every morning and afternoon, unless Sunday afternoon.
We offer the visitor a service of guided tours to the Museum and the three most interesting archaelogical sites of the Route. The guides will be archaeologists expert on teaching who work for Paleoymas, a company that has been dedicated to the spreading of the paleontologic heritage in several regions for more than seven years. On Thursday, the 9th of April, tickets will have a 50% discount in order to promote the access to this exhibition centre.
The Icnites Route of Soria is placed in the region of the Highlands, the ideal place for resting, peace and enjoyment of the nature.
[
See the list of news
]