The Paleontologic Museum of Villar del Río extends its calendar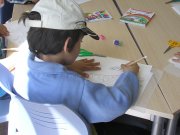 [2009-04-13]
This space, dedicated to dinosaurs and ichnites (footprints), is opened every Saturday morning and afternoon to the 30th of June, 2009.
This year it will be opened more days, even though it won't be opened neither on working days nor on Sundays, anyway visitors will be able to visit it and discover all the secrets that it keeps about dinosaurs and their behavior by their own any day.
Guided tours and didactic activities for schools and groups on working days can be arranged with the Departamento de Educación y Acción cultural (DEAC, Department of Teaching and Cultural Action).
Visit www.rutadelasicnitas.com to know more about the calendar, opening time, activities, rates and contact details.
[
See the list of news
]