THE BANK CAJA RURAL WILL SUPPORT TWO NEW PROJECTS IN THE HIGHLANDS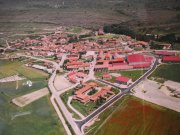 [2009-05-04]
The bank Caja Rural de Soria, through its department 'Empresas Participadas', has made public that it will support two important projects that will contribute to the development of our region. The Centro de Tecnología Térmica (Thermal Technology Centre) will be opened within the facilities of the company Sigurd Technologie S.L. Last December the works to convert these buildings into a centre of homologation began in San Pedro Manrique. The extension of the present factory means an investment of five million Euros.
The other project is the extension of Valdelavilla Rural Tourist Resort and, although it is still been studied, 15 or 20 beds will be added.
We want to congratulate and thank those who, from Caja Rural, are boosting the development of the region of the Highlands.
[
See the list of news
]